PETALING JAYA, Malaysia, May 30, 2023 – (ACN Newswire via SEAPRWire.com) – Presto, a Loyalty Ecommerce Redemption and solutions provider, PUC Berhad's ('PUC' or the 'Group') e-commerce app aggregator and payments platform, is pleased to announce a loyalty collaboration with VSING to provide VSING members even more value for their loyalty points.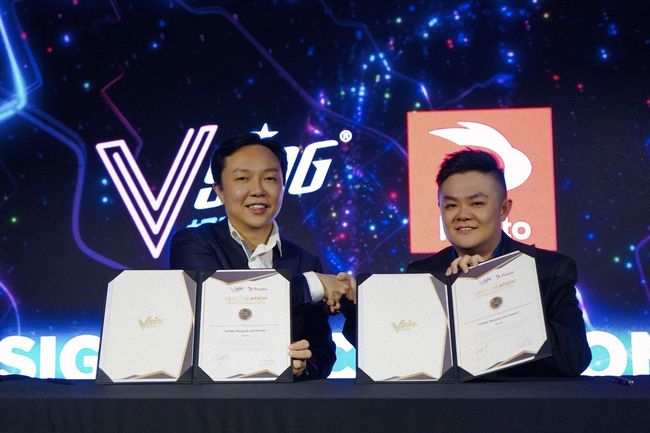 Mr. Cheong Chia Chou, Group Managing Director and Chief Executive Officer of Presto;
Mr. Vincent Teoh, Founder and Chief Executive Officer of VSING [L-R]
VSING is a music-driven social entertainment platform with a presence in Malaysia, Singapore and Hong Kong. There are 12 outlets in Malaysia located in Klang Valley, Ipoh, Johor, Melaka. Soon, they will be targeting more outlets in other states in Malaysia and in more different countries. As of today, VSING has a user base exceeding 80,000 individuals.
Presto platform comprises e-commerce loyalty redemption platform, electronic money, and also brings together more than 10million loyalty members through various loyalty points aggregation. In addition, Presto provides payment services, technology businesses as well as associate companies with businesses in powerbank leasing, digital content, logistic and warehousing aggregator, online general and life insurance products and service aggregator and food delivery services.
The collaboration will enable VSING members to use their V POINT as digital currency in the Presto ecosystem and also allow members to combine their V POINT and other digital payment methods to make payments. The Presto – VSING collaboration will start in mid-June and provide VSING members a range of offerings, including exclusive products and services, from renowned partner brands to independent brands and services. With Presto as a redemption partner, V POINT will act as a digital currency; when making a payment, members may combine V POINT with other digital payment methods if points is insufficient.
Group Managing Director and Chief Executive Officer of Presto, Mr. Cheong Chia Chou (Link) Mr. Cheong Chia Chou, Group Managing Director and Chief Executive Officer of Presto said, "Our vision is to empower customer loyalty rewards with smarter incentives, we aim to provide our business partners a seamless and effective means of managing a loyalty redemption programme. We are delighted to collaborate with VSING and welcome their members onboard the Presto platform."
"VSING members can now unlock a world of possibilities and choose rewards as the Presto ecosystem has more than 20,000 products and services that they can redeem. The expanded selection covers everything from home and living to electronic gadgets or indulgent services. This will make the VSING loyalty programme even more attractive."
Mr. Vincent Teoh, Founder and Chief Executive Officer of VSING said, "We look forward to the collaboration going live in mid-June and we are sure our members are also looking forward to a bigger world of possibilities. We are always seeking opportunities to enhance our loyalty programme while offering a mobile application that revolutionises the way people communicate and interact. This is supported by unique features, including a powerful song selection system, interactive gifting options, and an exclusive membership tiering system."
Presto: https://www.prestouniverse.com/my/E-Commerce
Copyright 2023 ACN Newswire. All rights reserved. (via SEAPRWire)